Arjan's Biggest Year
In 2016 I will attempt the ultimate in global birding, to break the world record in birdwatching, this involves observing more than 6000 species in a single year!
Like my predecessor Noah Strycker I will count heard-only birds, but I will differentiate between heard-only- and seen species to make sure my list stays comparable.
During my 'Biggest Year' I will raise money for the groundbreaking Birdlife Preventing Extinctions Programme in a collaboration with Vogelbescherming Nederland and the Dutch Birding Association. This programme aims to prevent the extinction of all globally threatened bird species by applying an active, innovative and highly effective methodology.
Tweets by @arjandwarshuis
Arjan's Biggest Year is supported by:
October 30 - November 2: Cuba
6 november 2016 · Arjan Dwarshuis · 4198 × bekeken
http://www.arjandwarshuis.com/#biggestyear
http://world.observation.org/arjan.php
PLEASE MAKE A DONATION NOW

October 30th ZAPATA SWAMP
Late last evening I had arrived at Havana (Cuba) Airport where I was picked up by my best friend and biggest fan, namely my dad! For the next 3,5 days we would travel across the western part of Cuba to target all possible endemics. My dad told me that he had endured two days of nonstop heavy rain prior to my arrival, so we kept our fingers crossed for the next couple of days.
From the airport we drove two hours to Playa Larga, gateway to the Zapata Swamp, which is Cuba's finest birding site. Here we checked in at the wonderfully layback Villa Rio Mar (they are on Tripadvisor and this is their email: moticacuba@gmail.com), which I can highly recommend for anyone planning a trip to the Zapata Swamp.
After four hours of sleep we had breakfast and at 7 AM we met local legend Angel Martinez Garcia, our guide for today and tomorrow. Together we set off on a small dirt road that took as straight to the heart of the swamp. The weather was perfect, sunny and a clear blue sky. I guess I keep on being incredibly successful in dodging bad weather this year.
One of our first birds was a fantastically showy King Rail foraging right in the middle of the track. Not the critically endangered and rarely observed Zapata Rail, but a very nice sighting nonetheless!
The first and foremost target for today was the endangered Zapata Wren, a Cuban endemic with a population of less than 2500 birds. Luckily two birds were singing away on both sides of the track and after 15 minutes of trying we got incredible looks at a Zapata Wren that crept across the ground barely two feet away from us. Another good find was a pair of the localized Red-shouldered Blackbird.
As we proceeded on foot to look for the rare and extremely localized Zapata Sparrow we found the bushes besides the track 'dripping' with North American passerines. In two hours time we found more than 15 North American migrants and of course two pairs of Zapata Sparrow.
In the mosquito infested forest adjacent to the swamp we found some great birds like Grey-fronted Quail-Dove and Cuban Trogon and on our way back to Playa Larga we found Cuban Oriole and Cape May Warbler along the roadside.
After a crazy good lunch at the Tiki Bar we set off into the forest again. During our afternoon session with Angel we saw great birds like a roosting Bare-legged Owl – for which we had to wade knee-deep through a swamp, Cuban Vireo, Cuban Tody and a Cuban Black Hawk on the nest.
That evening we had the best seafood dinner ever at Villa Rio Mar and a beer to celebrate the 45 (!) new species today.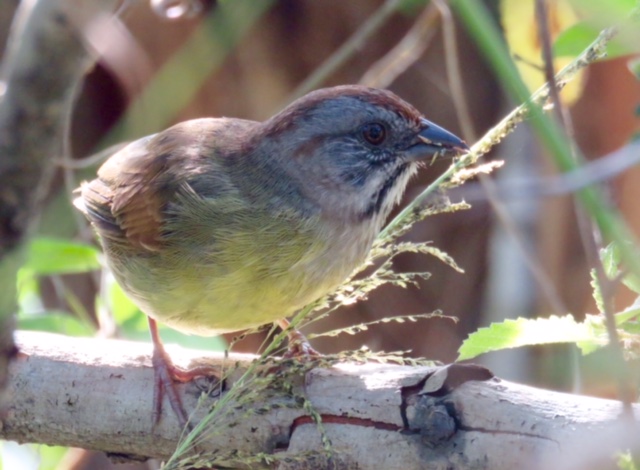 Zapata Sparrow Torreornis inexpectata (Arjan Dwarshuis)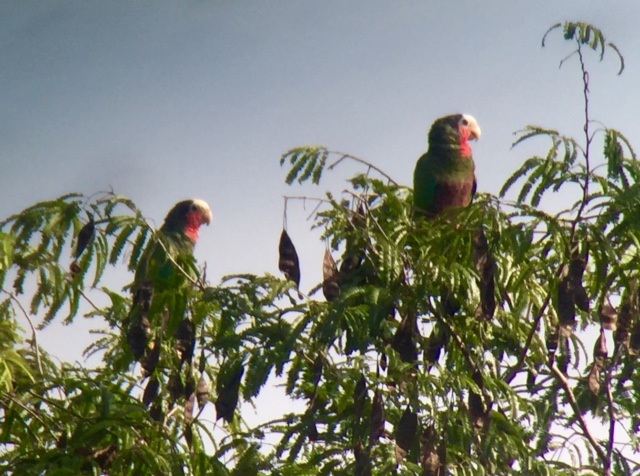 Cuban Amazon Amazona leucocephala (Arjan Dwarshuis)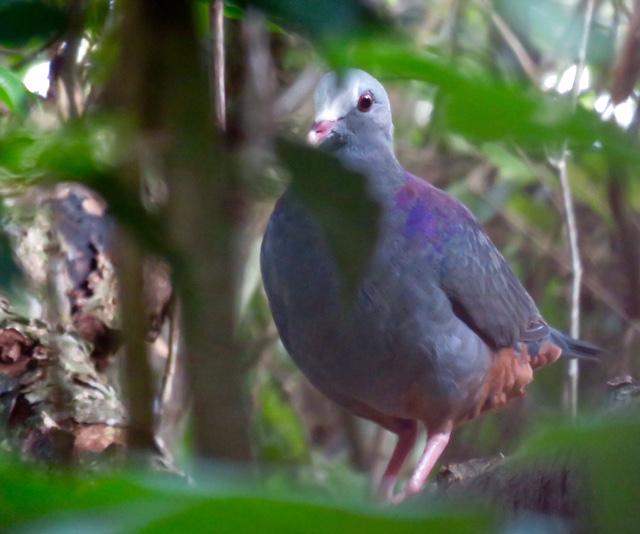 Grey-fronted Quail-Dove Geotrygon caniceps (Arjan Dwarshuis)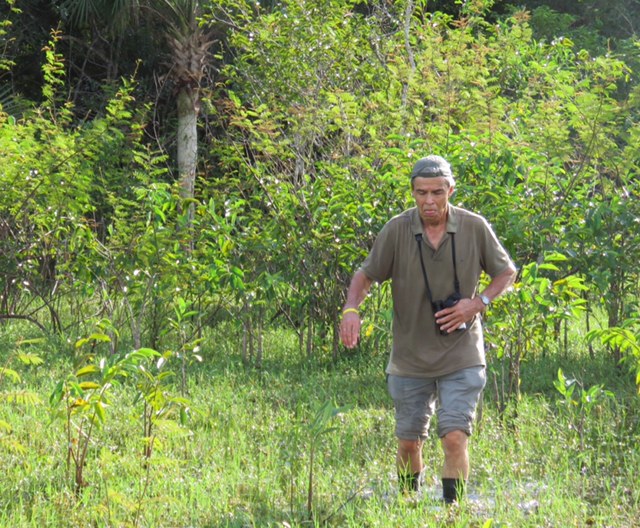 Kees Dwarshuis on his way to the Bare-legged Owl (Arjan Dwarshuis)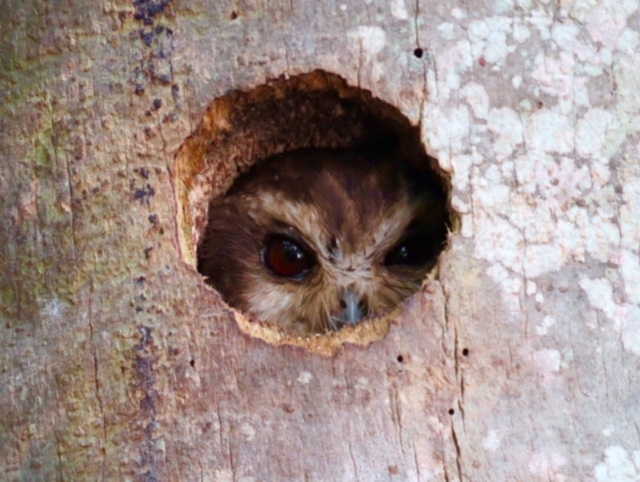 Bare-legged Owl Margarobyas lawrencii (Arjan Dwarshuis)

October 31st MY 6000th BIRD THIS YEAR!
I needed just six more species to reach the magical number of 6000, and that with still two whole months to go…
We picked up Angel at 7 AM and together we headed for the Soplillar area to look for our remaining Zapata specialties.
We started off well with the endangered Cuban Parakeet, we found 5 birds together in their roosting tree. Next up was the equally endanger Fernandina's Flicker which gave us no trouble at all, we had crazy good views of a pair attending their nesting hole in a dead palm. Meanwhile a pair of Cuban Bullfinches was feeding in the scrub below.
Next up was the smallest bird in the world, the 5,5 cm small – from tip of the tail to the tip of the bill – Bee Hummingbird. We obtained exceptional views of a winter plumaged male. After a pair of Cuban Amazons I needed just one more species to get to 6000 species. If we would succeed in that, this would mean that I passed 6000 species in ten months time...
One hour later it was a fact! And not just a boring Flycatcher or a Sandpiper. Far from that! We had amazing looks at no less than four endangered Blue-headed Quail-doves!!
We finished the day with great views of three Cuban Nightjars before another amazing seafood dinner at Villa Rio Mar.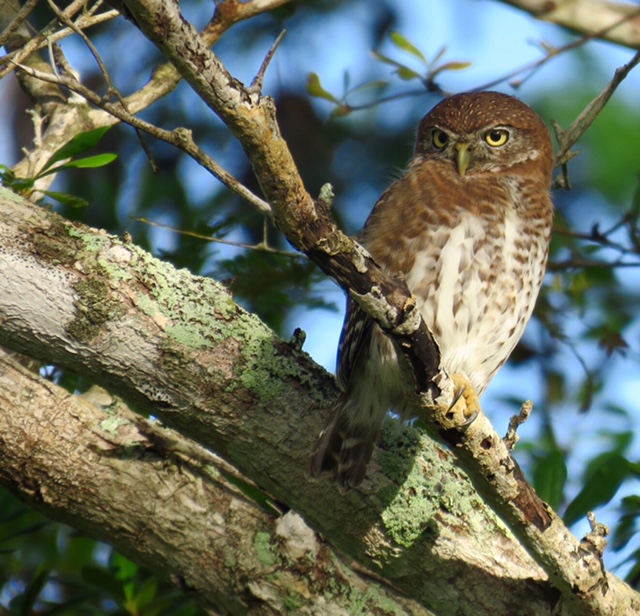 Cuban Pygmy-Owl Glaucidium siju (Arjan Dwarshuis)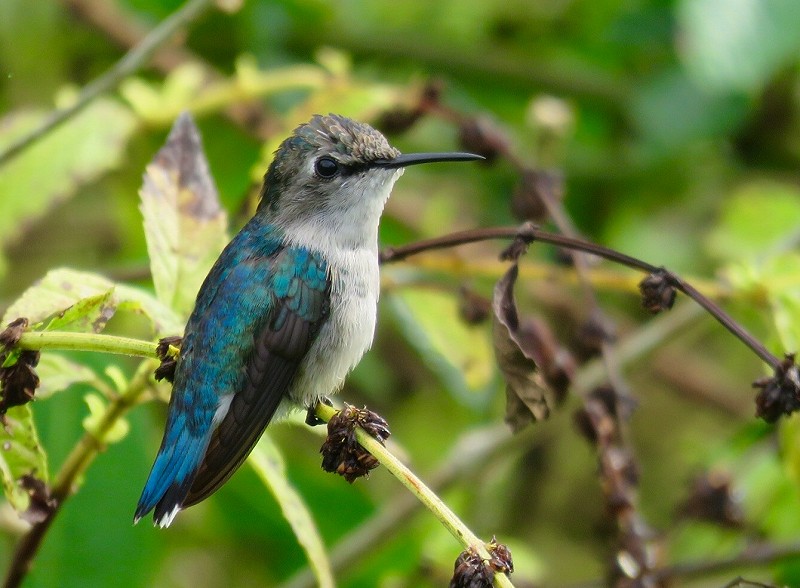 Bee Hummingbird Mellisuga helenae (Arjan Dwarshuis)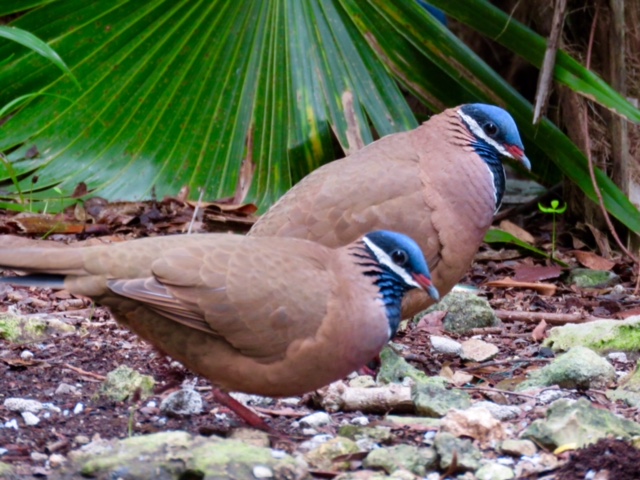 Blue-headed Quail-Dove Starnoenas cyanocephala (Arjan Dwarshuis)

November 1st THE MELANCHOLIC VOICE OF THE CUBAN SOLITAIRE
After cleaning up in the Zapata area my dad and I had the luxury to travel west and look for four missing Cuban endemics, the Olive-capped Warbler, Cuban Grassquit, Western Spindalis and Cuban Solitaire. Giant Kingbird was unfortunately a little bit too far off route to give it a go.
Driving across Cuba is a fantastic experience. You find yourself at an almost empty highway and the only vehicles that pass you are American old-timers and horse-and-wagons. Finding gas however is troublesome, since there seems to be only three or four gas stations on the whole of Cuba, so luckily we had filled up before commencing with our journey west.
Around 1 PM we arrived at the forested hillsides of Las Terassas and at the first bit of pines along the road we made short work of the endemic Olive-capped Warbler. A nice addition to our ever growing list of American and endemic Warblers.
After checking in at the wonderful Maite B&B we made a loop through the garden to look for the endemic Cuban Grassquit, a sometimes tricky endemic. We succeeded in finding an immature male after a lot of searching, but finding an adult male of this smashing species had to wait for tomorrow morning.
We finished our day with a hike towards the nearby waterfalls to look for the bird with the most beautiful voice of all Cuban endemics, the Cuban Solitaire. First we played hide-and-seek for a while with a Western Spindalis high up in the canopy which eventually gave excellent views. The Solitaire proved difficult, but eventually we heard its beautiful song. We tracked its haunting voice through the forest and eventually we found ourselves right below the bird as it sang away above our heads. A fantastic experience.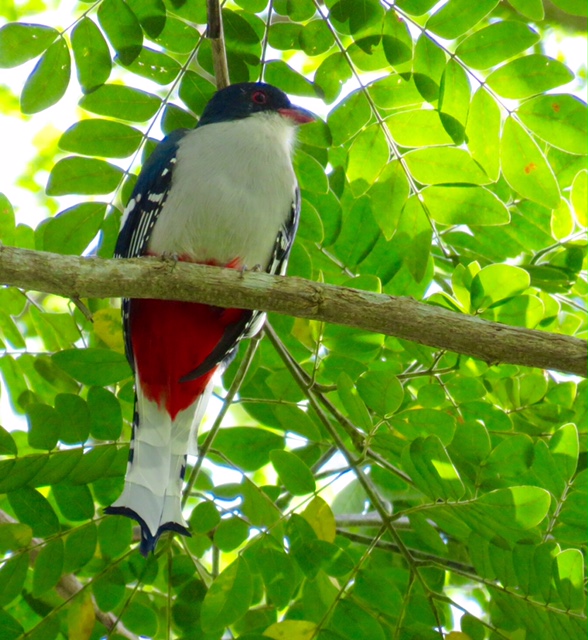 Cuban Trogon Priotelus temnurus (Arjan Dwarshuis)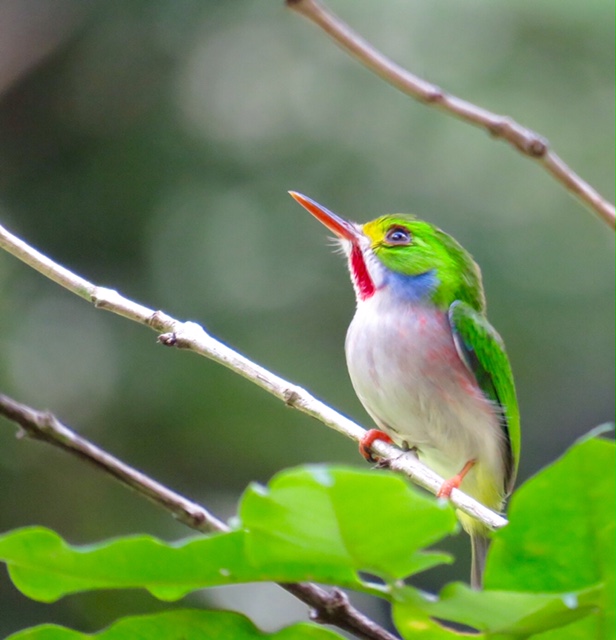 Cuban Tody Todus multicolor (Arjan Dwarshuis)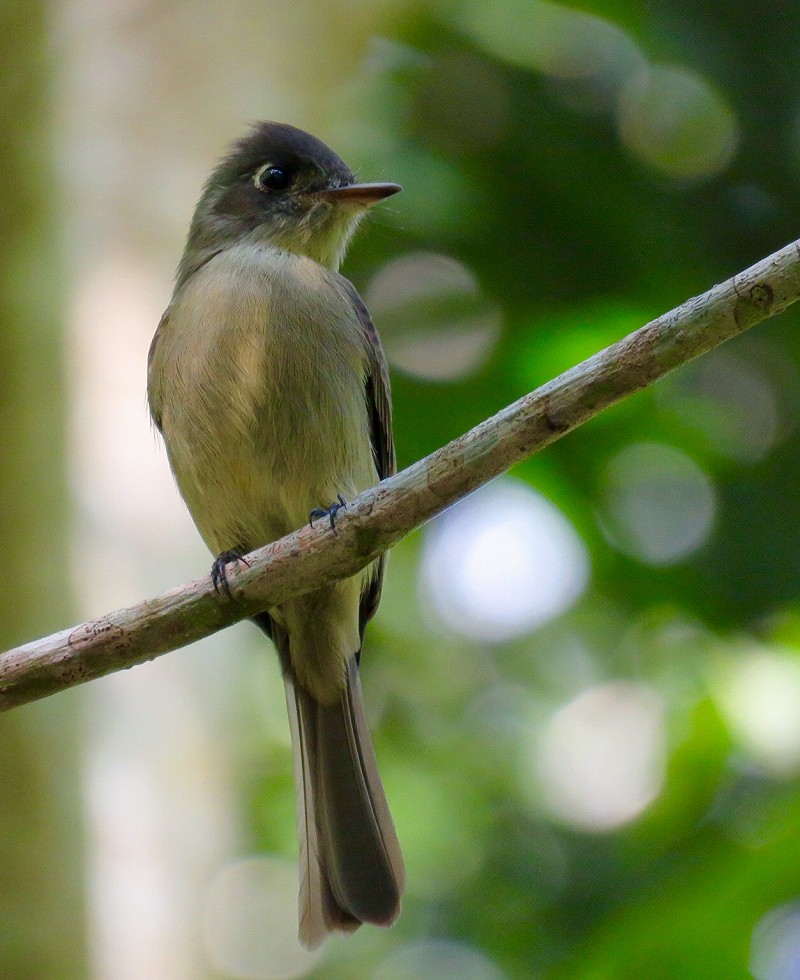 Cuban Pewee Contopus caribaeus (Arjan Dwarshuis)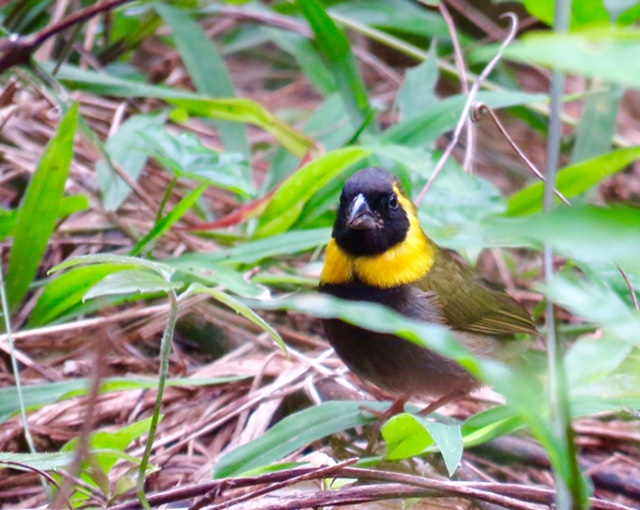 Cuban Grassquit Tiaris canorus (Arjan Dwarshuis)

November 2nd LEAVING CUBA
Already our last day on Cuba. What a beautiful island and, more importantly, what a fantastic people! Too bad we had only three days, but that's how a big year works. Once you're beginning to like a place it is time to move on.
We made one more loop through the garden and this time we found a beautiful adult male Cuban Grassquit. Another good find from a Cuban perspective was a male Hooded Warbler.
Next we headed towards the airport where I had to say goodbye to my dad. He had one more day on Cuba. The day after tomorrow he will celebrate his birthday on the airplane. I will lift a glass for you in Panama pops! In Panama my uncle and dad's brother Fred will be waiting for me and with 6010 species on the scoreboard I expect to be breaking the record tomorrow with him in Panama!
Thanks dad for helping me out on Cuba, I had a fantastic time traveling together!

Arjan Dwarshuis

http://www.arjandwarshuis.com/#biggestyear
http://world.observation.org/arjan.php
PLEASE MAKE A DONATION NOW

Discussie
Gebruikers van het forum gaan akkoord met de forumregels.